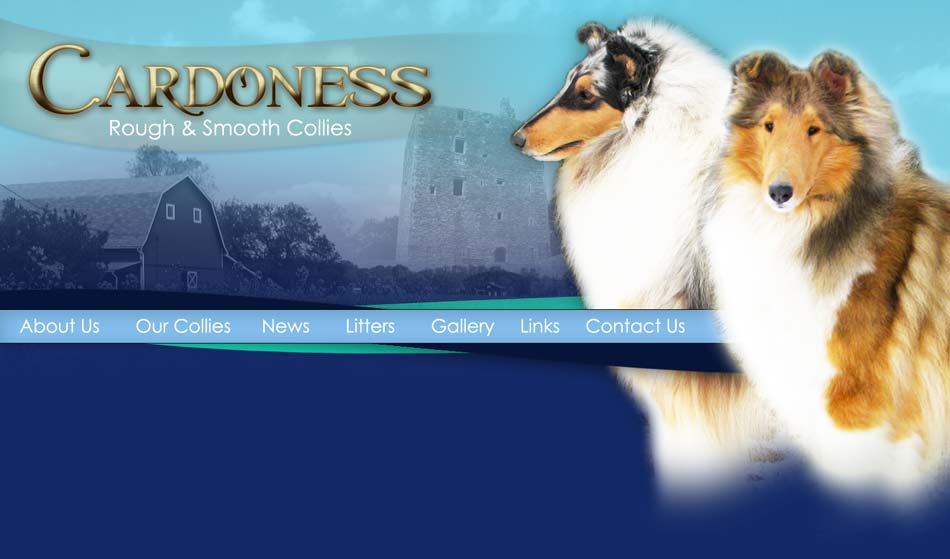 Web Design By Niome




Candy, Sunnland's In the Spotlight made her ring debut this past weekend, and to say she was a star is an understatement! She was Reserve Winners Bitch all 3 days in the all breed, and Best Puppy in Breed on Saturday. At the Alberta Shetland Sheepdog and Collie Association Specialty she was Winners Bitch, Best of Winners, Best Puppy in Specialty and Best of Opposite Sex over specials for her first points, 5 points! I am so proud of her, she showed like a pro and her happy outgoing personality is infectious. Thank you to Blair and Marie Mullin of Sunnland collies for letting this special one come to Canada!! Thank you to Tammy Sawatzky for showing Candy to this fabulous win!

Also big congratulations to Carol and George Ewashen, their blue smooth boy showed like the champion he is and walked away with Best in Specialty smooth!!!! BISS Can. Champion Davenloch That's My Beau has been handled to all his success by myself, and I just love this dog!!

I also want to thank all our friends who support us and help out at these shows to make it a success, Keri Campbell of Aychess collies of Maple Ridge British Columbia flew here to help groom, and what an amazing job she did!!!! Thank you just never seems like enough, but Thank You!!!







February 6, 2012

Well we have plenty of news from the dog show this past weekend, this was the first dog show for us this year and what a successful one it was! Angie, Cardoness Davenloch It's Karma, my co-owned blue rough girl was Best of Breed from the classes over specials on Saturday for a 3 point win, and on Sunday she was Winners female for a more points to complete her Canadian championship. At the specialty it came down to her and two other girls for Winners, I am so proud of her, she showed non-stop.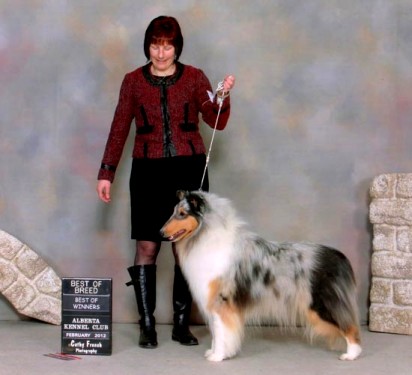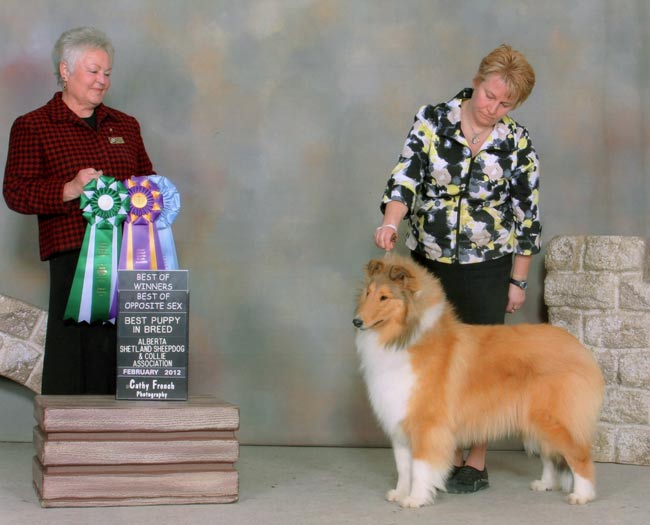 Angie
Candy
Successful weekend in Calgary this past weekend, we attended the Calgary Kennel and Obedience Club shows, and Candy is now a new Canadian Champion, she finished going Best of Winners, Best Puppy in Breed and Best of Opposite sex all 3 days in just 2 weekends of showing!! Thank you to Tammy Sawatzky for showing her to these great wins!!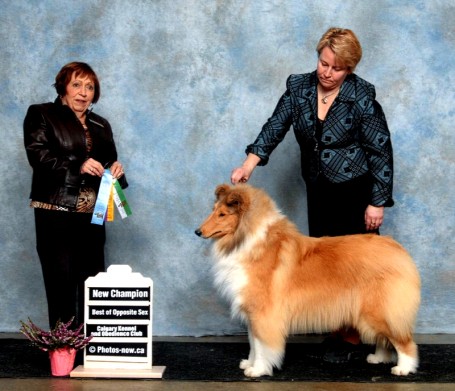 Great weekend at the Battle River Canine Association dog show, Candy, Can. Ch. Sunnland's In the Spotlight came home with two herding Group 4's her first time showing as a special!!! Thanks again to Tammy Sawatzky for presenting her so beautifully!

May 8

Home from 2 great weekends on the road showing, our first stop was Assiniboine Kennel Club in Winnipeg, Man. What a weekend for Candy, BPISS BPIS Can.Ch. Sunnland's In the Spotlight! She came home with 3 herding group 3's, one herding group 4, won all her puppy groups and to top it off on Sunday she was Best Puppy In Show!!!!
So proud of her! She now sits as #3 rough collie in Canada to date. Thanks again for the expert handling by Tammy Sawatzky, and to all the judges that appreciated her breed type!

In Saskatoon she again showed her heart out and was the breed winner in the Working/Herding specialty!! She has one more show this spring, then she will have a break and then start working on her American championship. Did I mention I LOVE this one!!!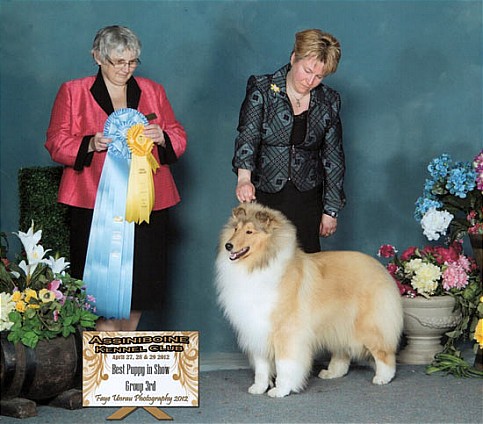 May 23

We are home from the Fort St. John dog show, and what a dog show it was!! On Saturday Candy was Group 1 and Best Puppy in Show under judge Carol Graham!! Sunday was her birthday, and she again was Group 1 and Group 2! Monday saw her garner another Group 1 and Group 2 and on to finishing the weekend in amazing fashion taking her first BEST IN SHOW!!!!!!!!!!!!!!!!!!!!!! Thank you to judge Avery Gaudin for this amazing honour! She is now the #1 collie in Canada!!

June 25 2012
Grande Prairie and District Kennel Club:

Another successful show weekend for the Cardoness gang, Casey, Prairiemist Raise Your Glass is now a Canadian Champion! She is staying home now to be bred, and she is soon to be in season, stay tuned for more information about this breeding, rough litter and all colours expected!

We are also very proud of Winston, Sealore's Northpoint at Davenloch N' Cardoness, whom we co-own with David Clarke, it was his first time to a dog show and he came home with 7 points, a best puppy in group and a Herding Group 4! Look forward to seeing what the future holds for our stunning tri boy!


Cardoness collies welcomes Glencre Zyan Heavy Metal, Rush, to Alberta for a short stay.
Owned by Nadeen Pickard of Manitoba
Rush will be shown while he is here and entertain a few ladies too.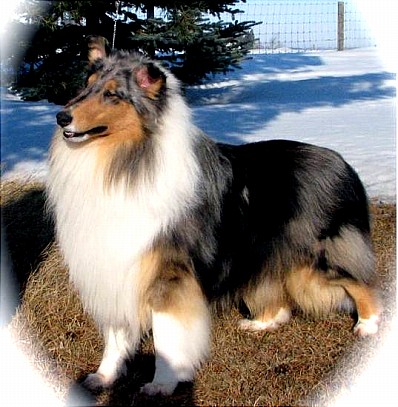 Happy New Year everyone, hoping 2018 is a good one for everyone.

We have a couple of breedings coming this year, Charlotte is in season now and will be bred at the end of January, puppies possible at the end of March. Roughs only.

Robin will be bred as well, she is due in season at the end of February. Sire still to be determined, roughs and smooths.


In other news, Robin had her first litter in October of last year, a rough tri male and a smooth tri male. The rough has gone to his forever home in Calgary and I kept the smooth for now.

I am looking for a show him for him, he is 11 weeks old as of todays date.


Happy New Year

Jo-ann Friend Cardoness Collies




July 14, 2016

Cardoness Collies welcomes "Coach" AM. GCH Decor's Custom Label, to Canada. Many thanks to Earl Rogers for this lovely tri factored sable boy. He will be bred to Charlotte-BPIG Ch. Davenloch Cardoness Versailles in the fall, we are very excited to add him to our breeding program! Also as soon as he coats up he will be hitting the show ring in Western Canada.



Enjoy your summer everyone,

Jo-ann Friend



June 10, 2016

2016 has started off great, Charlotte, BPIG Can. Ch. Davenloch Cardoness Versailles went to her first dog shows in March and April and finished her Canadian Championship in just two weekend with wins over some nice male specials as well as many cuts in the group ring and a puppy group win, so proud of the energizer bunny.



Robin, Thistlebrae Cardoness Faberge showed as a baby puppy with a group win at Camrose dog show. At her first real show for points she came home with two Best of Winners for 4 points. Looking forward to showing her more this summer. Thank you JoAnne Pringle for this lovely blue smooth girl from Thistlebrae collies in Ontario.



We also will have a new addition to our stud force at the end of June, I am very excited for this addition! Will update with photos as soon as this handsome boy arrives.

Also Charlotte will be bred to this new addition come fall, look for updates to my Litters page soon.

Hope everyone is enjoying their summer so far?



Dec. 26 2015

Merry Christmas and a Happy New Year from all of us at Cardoness collies. We have added a couple of new members to the dog family, Charlotte is a tri rough girl sired by Buck, hope to have her out to show in the New Year. Our other addition is Robin, a blue smooth girl from Thistlebrae collies in Ontario, I have high hopes for both girls in the coming years.

Buck, BISS GCH Cardoness The Buccaneer finished out 2015 in the top 10 for rough collies in Canada, so proud of my boy, he also is the sire of two Canadian champions owned by Tamara Pitre. Hopefully more to come in the New Year.

Hopefully we will have some upcoming litters, stay tuned for updates in that department.


I hope everyone has a very prosperous New Year!

April 7, 2015

Great weekend at the Red Deer dog show, Buck came home with a Group 2 under respected judge Houston Clark, and his first litter of puppies owned by Tamara Pitre made their ring debut as baby puppies at just 3 months old,on Sunday Trump the sable smooth boy won the Baby Puppy Herding group.



In other news Candy is confirmed in whelp to Buck, puppies due around April 23. Puppies will be non carrier/clear PRA, DM clear and possibly some MDR-1 Normal/Normal


2014 dog show season ended very well for us, Starr, Cardoness Wish Upon A Starr finished her Canadian Championship title easily from the Junior puppy class winning multiple Best of Breeds over specials. Thank you as always to Tammy Sawatzky for showing this little spitfire. Her sister Dreamy only needs a couple more points to finish her title, she will be back out in 2015.



Merry Christmas and a Happy New Year to everyone.




I hope everyone had a great summer, as we head into fall and winter I have a few bits of news. First we have a litter expected in November around the 20th of the month, Candy has been bred to Buck. Watch for further updates as I will be confirming pregnancy at the end of October.



Calgary Kennel and Obedience Club:

The Trek X Candy girls came out for their first show and wow was I impressed. Cayley ( Cardoness In The Searchlight) owned by Ron and Carole Middleton of Edmonton was BOB from the puppy class for her first 3 points on Friday.

Starr ( Cardoness Wish Upon a Starr) was BOB the next day for 3 points, and she was also Winners Bitch on Sunday for 2 more points. Great start girls!!



Lloydminster Kennel Club:

We were the only rough collies entered, but Starr came home only needing 3 more for her Canadian Championship and her sister Dreamy ( Cardoness In Your Dreams) got 4 points towards her Championship.


Not to be outdone by the puppies Buck ( BISS MBPIG Cardoness The Buccaneer) was busy showing this summer and easily attained his Grand Championship!



Happy New Year everyone, it has been a great start for Cardoness collies already in 2014. We just returned home from the AKC show in Calgary where Buck (MBPIG Can. CH. Cardoness The Buccaneer) on Friday won the breed onto a Herding Group 3!
Saturday he was entered in the ASSCA collie and sheltie specialty where he went on to win Best of Breed Rough!! So he is now known as BISS MBPIG Can. CH. Cardoness The Buccaneer, I am so proud of my young man!!

Also I have bred two girls, Candy ( BIS MBPIS BPISS Grand Can Ch. Sunnland's In the Spotlight) , puppies hopefully due around March 3.

Casey ( BPIG Can, Ch. Prairiemist Raise Your Glass) has been bred to Buck (BISS MBPIG Can. Ch. Cardoness The Buccaneer), puppies hopefully March 15.

I hope everyone has a great 2014!